If you're looking for the perfect Baby Shower gift for a special Mum to be then look no further, our range of hand picked baby shower gifts are ideal for that special occasion which happens only once. Our gifts range from teethers to soft toys, from sorting toys to electric vehicles and are picked to suit every kind of budget. Read below to find out more about our special baby shower gifts…. 
1. Small Toy - Peter Rabbit Soft Toys, perfect if you want a small gift that will be a keepsake throughout babies life
If you're looking for the perfect small gift for a baby shower then we have just what you need. These small soft toys are the ideal gift for that special someone who's having a baby. We offer you 2 soft toys to choose from…
The Flopsy small soft toy from the 'Forever' heirloom collection is designed to be shared across generations. Created from the softest plush and styled in the most beautiful premium quality fabrics and patterns, this exquisite Flopsy Bunny soft toy offers both contemporary yet traditional styling that will appeal to all generations of gift buyer.
The Peter Rabbit small soft toy also from the 'Forever' heirloom collection evokes nostalgia in gift buyers who want to share happy memories and traditional values of their own childhood. The perfect size for little ones to love, the Signature Peter Rabbit Small Soft Toy makes the perfect best friend for playtime, naptime and cuddle time!
2. Baby Suction Plate - The mother will not be able to thank you enough when it comes to feeding time, as the plate has suction pads which will attach to any highchair or table.
This 4 sectioned suction plate comes with a set of a plate, bowl, and spoon. The 4 sectioned plate is convenient for serving various food groups and encouraging weaning. The powerful suction non-slip base will stop your kids from moving their plates and spilling food. The silicone suction base will ensure your kid's plates will stay where they are meant to at mealtimes.
3. Big Gift - If you want to push the boat out and get baby their first ride.
If you're looking for a gift for when the baby grows up a little, this kids electric Bentley is perfect for ages 3-5 years. The Bentley style electric ride-on car allows the little one to ride around in ultimate style. It is electric powered and provides 45 minutes of riding for every full charge. It comes with it's own LED lights, MP3 player and a horn on the steering wheel, making it extra fun and realistic.
Then there's the Vespa ride on motorcycle, with 3km/h maximum drive speed is safe for children ages 3 years plus in age. This motorcycle provides a realistic experience for the child with its side mirrors, working horn & headlights, and a dashboard light.
4. Sensory Hide and Squeak Eggs - Everyone remembers these little squeaky friends. They are a favourite all over the world you can't go wrong.
Perfect for age 6 months + these shape sorting eggs will intrigue the little one for hours. Match the shapes to the egg carton - Plus plenty of silly faces to find. Push our eggs and make us give a cheeky chick squeak! Perfect for little hands.
5. Baby Teether - When the baby's teeth start to come in this will be a lifesaver.
Sophie Giraffe is the perfect size for little hands to grasp and little gums and new teeth to chomp on. She is a soft cream colour with golden brown spots, hooves and ears which will stimulate babies visually. Slender, flexible, and soft, baby can squeeze and chew her in complete safety. Firm enough to give comfort to teething babies but not so hard that it will hurt their tender gums. Comes supplied in an attractive gift box.
6. Blanket with personalised box - If you are looking for something more personal and conventional. A blanket will be used all of the time.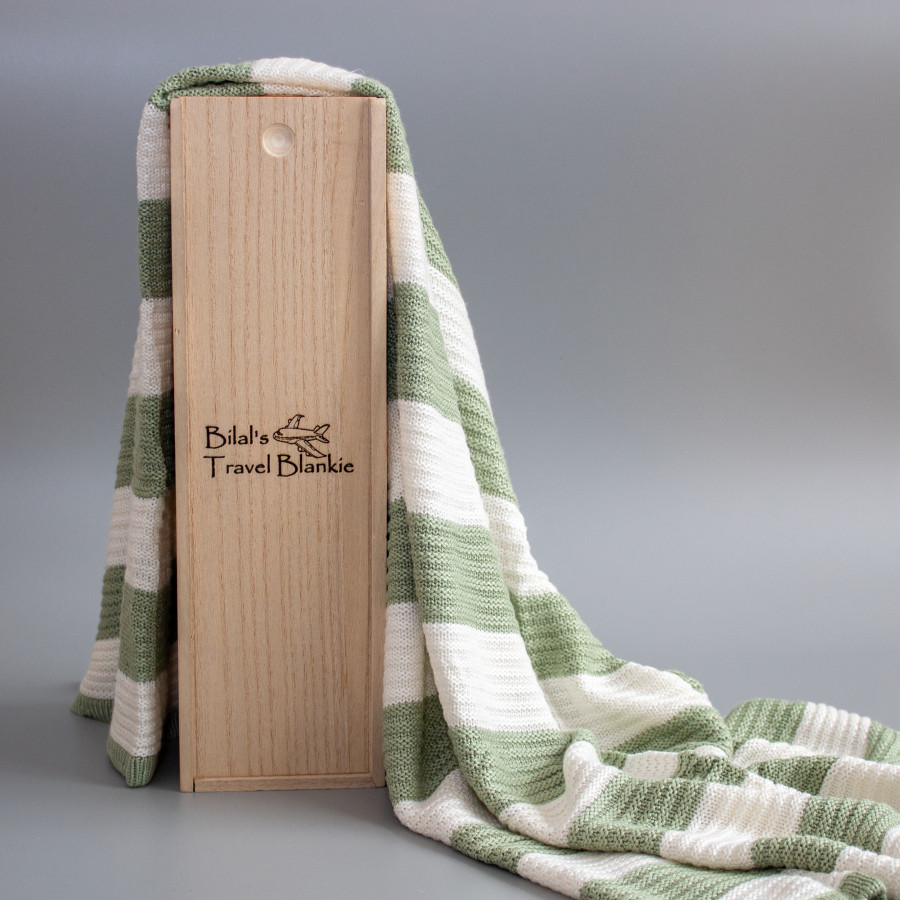 Made from 100% bamboo viscose, this luxurious knitted blanket is softer than cotton and naturally breathable to help regulate baby's body temperature and keep them comfortable and cosy. With it's natural antibacterial properties and organic nature, you can feel safe in the knowledge that this bamboo blanket will provide safety and comfort for the little one, day after day.
7. Interactive baby book - Help baby say their first words with this gift.
The Fisher-Price Growing Baby Peek-a-Boo Book is a wonderful choice for a baby's first read. It features a light-up sun that will grab a little one's attention and help them focus. When you press the sun, it lights up and a song plays. When it is pressed again, baby will hear additional sounds and educational phrases. A toddler will love playing peek-a-boo with the adorable animals featured on the toy.
8. Starting a family band? This hamper is full of interactive instrument gifts which are sustainable as they are made of wood.
This colourful rainbow themed box contains a range of personalised items including a Xylophone, a sound rainmaker, rain maracas, a train, a clock, an abacus, a D shape rattle, a rattle & a flower rattle. The box lid will be engraved with the child's full name and date of birth. Each individual item inside the box will be engraved with first name only. Suitable for age 3+.
9. Warmies Sloth - perfect for those winter months.
My First Warmies® (9") are made with the softest fabrics and silky satin details that add an elegant touch while providing a tactile feel your child is sure to love. Like the original Warmies®, these super cute heatable characters are gently scented with French lavender to help your child feel cosy and secure. Simply warm in a microwave to provide up to an hour of soothing warmth and comfort.
10. Baby Walker - be part of babies first steps.
This traditional baby walker comes with 3 wooden blocks. The walker features 4 non-slip rimmed wheels that keep the walker from slipping or sliding sideways and a smooth rounded push-along handle suitable for little hands. The walker is a fantastic walk-along toy encouraging your child to take their first steps. Easy for little fingers to grasp, this brightly coloured walker stimulates creativity and basic motor skills. Suitable for 12 months+.