If you are a huge fan of Taylor Swift and her extensive music collection then this blog is for you. From the 17th March 2023 to the 17th August 2024 Taylor Swift is touring the uk and will be playing songs from all of her albums. Taylor Swift has one of the hardest tours to get tickets for, this is because Taylor Swift is singing all of her albums. 'Debut' was her first album which came out in 2006 when taylor was only 16, then she had 'Fearless' which came out 2 years later in 2008, 'Speak Now' came out in 2010, 'Red' came out in 2012, '1989' came out in 2014, 'reputation' came out in 2017, 'lover' in 2019, 'folklore' in 2020, 'evermore' came out later on in the year 2020 and lastly 'midnights' in 2022 which is her most recent album. All of her albums are very popular and have many hit songs, this means that a lot of people know her and want to go and see her live. So if you are going to her tour, or just want to see what people will be wearing, or you're looking for Eras tour outfit ideas and some cool things to wear, then you're at the right place. The concert is going to last around 3 hours because she has so many albums to get through and although she isn't singing every song, she is singing around 5 songs from each album so it will take a while especially considering one of her songs in her 'Red' album is ten minutes long. Taylor will also be singing a surprise song.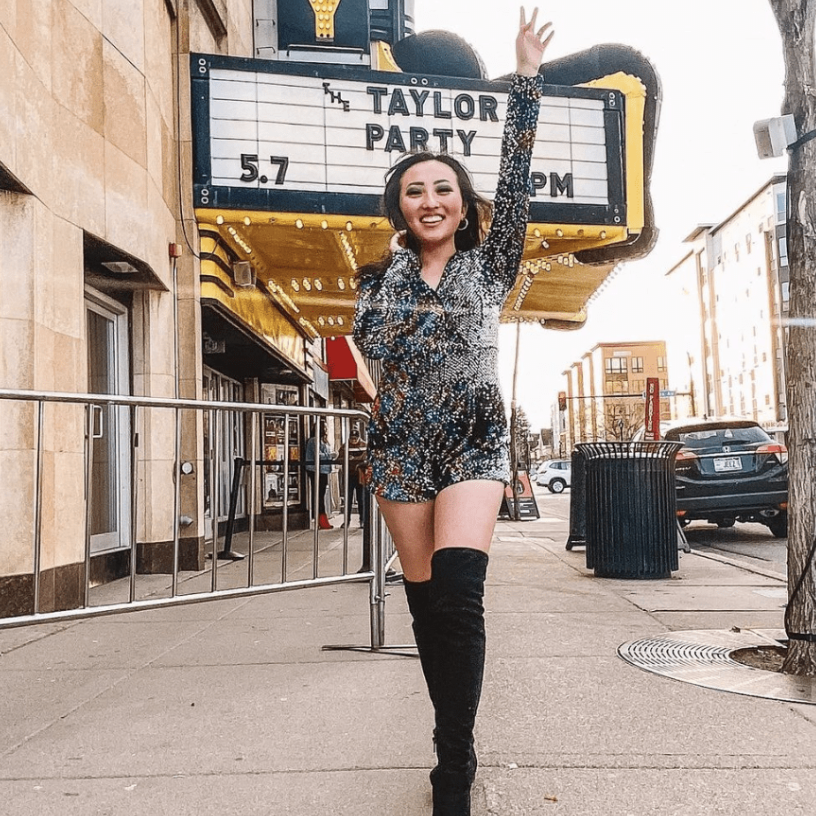 What do people wear to the Eras tour?
For outfits people usually dress as her albums, for example, people who like her album 'Lover' would usually dress in pink, hearts and white and then people who like the album 'Reputation' they would dress in black and would usually wear snakes. People sometimes narrow it down even further and dress as a favourite song or lyric and sometimes even inside things that only people who are a fan of Taylor Swift would understand. People also come as popular outfits that Taylor Swift has worn in the past, like an outfit she has worn in a music video etc. Taylor Swift outfits can be very unique and her fans are very creative with their outfits which will be very cool to look at while you're there.
The eras tour is based on all of her albums which means it will be very cool to see everyone in the album they like and it's a great way to make friends with people who like the same album or song as you do. Some fun traditions that happen at the Eras tour would be the fans shouting lyrics at Taylor when she is performing. For example in her song 'Anti-Hero' the lyrics are 'tale as old as time' but fans shout 'Taylor you'll be fine' there are many other things they have all come together and agreed on, like during 'you belong with me' they added in claps and so many more little things to make the concert more interesting. Like homemade bracelets and dances.
What products does Cazaar have for the Eras tour?
Cazaar has many things to offer for the Eras tour like white cowboy hats, heart sunglasses, feather boas, bracelets, makeup, snake armband and face gems. Taylor Swift fans are making friendship bracelets to trade with each other after Taylor, in her song 'You're On Your Own Kid', sang 'So make the friendship bracelets, take the moment and taste it you've got no reason to be afraid'. Cazaar has just the thing for that, a jewellery making set which could help you to make some bracelets to trade with people. Cazaar also has loads of great and fitting accessories like jewellery and makeup to add to your look if it's looking dull.
What should I wear to Taylor Swift's Eras concert?
The main colours for her concert would be black, grey, pink, purple, gold, silver, blue, brown and green. An outfit you could wear if you like her debut album could be a white cowboy hat or any cowboy hat, and maybe you could wear a plain white shirt and you could try and interpret jeans in it some way either if you wear jeans or if you wear a jean jacket.
For Fearless you could wear anything beige like a beige dress or if you like "You Belong With Me" from this album you could wear a plain white shirt, black glasses and you could write on your shirt with fabric markers like she had in the music video and you could bring a small sign that says 'you okay?' referring to her in the music video.
For "Speak Now" you could wear purple outfits like a purple suit, a purples top or even a purple dress. I also think you should wear some face gems to bejewel your look. I also think you should wear a gold dress like she wore on her speak now tour and eras tour.
For "Red", you could wear what she wears while singing 22 and match with her or you could wear something red. I also think it matches what she wore in her music videos.
If "1989" is your favourite album I definitely think you should go for a cheerleader costume to show you are there for 1989 but Shake It Off especially. Or if you already have an outfit in mind then i think that you should use the face glitter or face gems to make your look stand out.
But if your go-to album is "Reputation" then I highly recommend the snake armband, it really shows what album you're going for. The 'Reputation' album people will be wearing snakes because before making the album people like Kim Kardashian called Taylor Swift a snake therefore in her reputation album tour she brought out a huge snake every night, and in the eras tour she has people wear light up wristbands and she makes it look like a snake it travelling through the crowd while she plays songs from the reputation album. And to give you more of an idea on what i think would be great to wear, I would say a black sparkly dress with the snake of course and I also think you should add some face gems to this look too.
If you're more on the calmer, loving side and lover is your favourite album then anything pink would be great, a pink top, dress, hat, anything. Also I recommend you wear the pink heart shaped sunglasses to finish off your look. But again if you already have an idea the face gems or face paint would be great to paint some pink hearts on your face. Or even using some makeup to draw some hearts on your eyelids would look great.
If you love meaningful songs and love folklore then some great things for you would be a grey glitter dress which would be perfect. I also think you should add a cardigan to your look as in the folklore album she does have a song called Cardigan. And then once again you should add some face gems onto your look.
If you like songs that have a story and you prefer the album evermore then I would recommend that you go for more of a red/orange/yellow colour and definitely plaid for your evermore outfit. If you want to dress up in a costume, I think you should get the party stone from Cazaar because it could represent 'Champagne Problems' from Taylor Swift's Evermore album.
Midnights is a great album with so many great songs, you should definitely go for sparkly, purple, blue and stars. It would look amazing, and people would be able to tell exactly what album you are going for considering the colour scheme and the stars and then the sparkles are just extra, but people at the eras tour always have sparkles and glitter.
There are so many different albums you could choose from and so many different accessories for the tour on Cazaar. If you have no idea just yet on which album you want to go with, I recommend buying the Face gems pack of 6 from Cazaar because you could wear the gems for any album. There are black ones that you could wear for 'Reputation' and 'Midnights'. They have a pink one that you can wear for 'Lover'. Grey ones can be used for 'Folklore', '1989' and 'Red' . Purple ones can be for 'Speak now'. Blue ones for 'Debut- Taylor Swift'. Gold ones for 'Midnights', 'Evermore' and 'Fearless'. There is one for everything, but if the face gems don't match your outfit you can always just wear the Grey ones or the Gold ones.